Speaking
Lynn is a knowledgeable and compassionate Bible teacher, author, and speaker who inspires Christian women to truly believe and accept God's grace and challenges them to live lives of spiritual freedom and sacrificial love. 
Whether you're looking for a better understanding of what God's love means for women or guidance for living a more transformed life, Lynn will share valuable biblical insights with a joyful spirit and a Christ-like gentleness.
From Lynn…
I can speak at your women's conference, retreat, dinner, Bible study kick-off, or other special events. My passion is to see women flourish in God's grace and live out the life of love exemplified by Jesus. My favorite topics to speak about include Jesus and his interactions with women, living by grace, accepting forgiveness, healing from emotional wounds, and practicing compassion.
Audio Clips of Lynn speaking: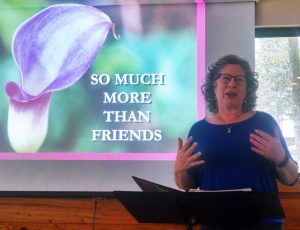 If you have questions or would like to invite me to speak at your event, email me at lynnbell209 at gmail dot com.
Where has Lynn spoken previously?
NorthSide Community Church Festival of Tables
Rocky Mount, NC
Good News United Methodist Church Women's Retreat
Santa Rosa Beach, FL
Testimonial:
"Our church held our first weekend retreat this fall, and Lynn Bell was our speaker and spiritual leader.  Her topic was Women in the Gospels, and her presentation was both informative and thought provoking.  She revealed interesting historical insights into the important interactions of Jesus with women and how women were a prominent part of spreading the Gospel the early church. Following Lynn's teaching session, we were provided with a set of questions for our small group discussions. The small groups allowed for in depth discussions of the impact of her message. Our ladies all left the weekend better able to understand and value our 'Sisters In Christ' thanks to Lynn."
Lynne Thomason
Retreat Planning Team
Good News UMC
West Waynesboro Church of Christ/Cherry Avenue Christian Church Combined Women's Retreat
Harrisonburg, VA
Testimonials:
"Lynn's knowledge and presentation of the encounters that Jesus had with women was powerful. It has changed how I view myself under the umbrella of grace and how I view other women. Her presentation was thought-provoking and engaging. The ladies at the retreat really enjoyed the time to break out into groups and answer the questions that Lynn provided. The personal devotional she created helped participants dig even deeper. It was a great weekend of being "Sisters in Christ and Sisters of Christ." We are so thankful that Lynn was able to share with us. It was truly a blessing."
Christi Martin, Retreat Co-Coordinator
Cherry Avenue Christian Church, Charlottesville
"Lynn Bell spoke for a women's retreat I recently attended. I had never met Lynn and did not know what to expect. I was excited to see what she and the Lord were about to share with me. I was not in the least disappointed. I found Lynn to be very knowledgeable, warm and compassionate. She is a gifted teacher. I have been reading and studying God's Word for most of my life but had not really explored the ideas Lynn presented regarding Jesus' relationships with the women he came in contact with. Her lessons were informative and applicable to what we as women deal with in today's society. The questions Lynn provided for our group discussions were challenging and thoughtful. She inspired me to further explore how Jesus views women. Lynn was a true blessing and I am thankful to have been a part of the 'Sisters in Christ' weekend."
Cindy DeNome
West Waynesboro Church of Christ
Discovery Church Women's Retreat
Broomfield, CO
Testimonials:
"We were so delighted to have Lynn speak at our Women's Retreat!
"From the start she was wonderful to work with as she developed handouts for us, listened to our specific needs and made every effort to bring God's truth to our ladies.  Lynn was organized and prepared with prewritten notes and power point slides that added a multimedia dimension to her talk. She presented questions and allowed time for discussion that provided a very dynamic element to the presentations.
"Above all of these visual and interactive parts of her talk,  Lynn very simply and honestly presented Biblical truth to a hungry audience. She laid out example after example of God's love for women shown through Jesus's interactions with them.  She challenged all of us to look at how we treat and interact with other women and to honestly ask ourselves if we see, love and accept our sisters as Jesus does.
"Because our congregation had grown so much in the last year we wanted a theme that could connect women, so we deliberately asked Lynn to bring the "Sisters of Christ, Sisters in Christ" message to our retreat. Lynn's honesty, kindness, transparency and obvious love for Jesus shone through her teaching and brought our women together as sisters in Christ."
Alina Rich
Retreat Coordinator
Discovery Christian Church Women's Ministry Team
"Inspirational, authentic, transparent, thought-provoking are just a few words to describe Lynn Bell and her message to our ladies at our Discovery Church Women's Retreat in Woodland Park, Colorado,  September 19-21, 2014.
"Lynn came fully prepared, Spirit-led, and we embarked on a journey with her as Sisters in Christ. Her Biblical knowledge, ability to engage us in discussion, and her desire for us to see ourselves as Jesus does, was a heart and soul-awakening experience.
"Going beyond the bond of mere friendship, Lynn taught us that "sisters" ARE SO MUCH MORE! We had time for reflection too; as she prepared a wonderful devotion for us, including many insightful questions to ponder and answer.
"I truly believe that each woman present returned home with a new perspective, a renewed hope, and guidelines to improve our relationships with other women. Lynn really helped open our eyes to the Gentle Savior's Heart and how He values women.
"Being a speaker myself, I was wonderfully blessed, and I would highly recommend Lynn for your women's retreat or ministry program."
Cheryl Hoffman
Erie, CO
OTHER PAST ENGAGEMENTS:
Pilgrim Baptist Church
Charlottesville, VA
Fairmount Christian Church Women's Retreat
Mechanicsville, VA
The Daughter Banquet
Bethany Christian Church
Bumpass, VA
Women's Conference: The Sister Connection
Maple Grove Christian Church
Charlottesville
Fall Women's Fellowship
Roanoke Presbyterian Church
Spring Women's Gathering
Blue Ridge Presbyterian Church
Charlottesville
Testimonial:
"Lynn Bell spoke at our Spring Women's Gathering, and she was truly an amazing speaker. Lynn was both engaging and interactive and also very mindful of the level of the audience. Her message, however, was what I most strongly recommend. She did a wonderful job of reminding me of the very inclusive nature of Jesus and God's love for us – ALL women included. What I liked most was how she made Jesus' teachings relevant to us today. Lynn's message was both inspiring and educational, and made me want to dive right into her study. I highly recommend her as a speaker!"
Liz Doyle Carroll
Blue Ridge Presbyterian Church
Ruckersville, VA
Iglesia Rios de Agua Viva
Charlottesville, VA
Women's Retreat
Williamsburg Christian Retreat Center
Williamsburg, VA
Testimonial:
"Lynn's presentation to our women's retreat was relaxed, informative and current to our lives. I found her to be a very generous and pleasant person to talk to and listen to, and I appreciated her willingness to engage us and keep us involved with her message. Lynn was interactive and kept us on track even as we talked and responded to her teaching and sharing."
Betsy Chalmers, Retreat Planning Team
Richmond, VA
More from the Retreat…
"Lynn Bell was a recent speaker at our women's retreat. I appreciated the messages she brought to us from Scripture about women in the Bible and their encounters with Jesus. One of the things I really loved was that her teachings were very interactive and had a lot of questions for us to think about and apply to our own lives. But the thing I most appreciated about Lynn is that she shared her own story with us and how Jesus has encountered her. I would have gone away from the weekend thinking the teaching was good but it takes it to another level to hear what someone has walked through and that they are having to live out what they are teaching. This is not just a good Bible study or a retelling of great Bible stories. These are things Lynn is encountering firsthand from the Gentle Savior Himself. That makes me leave the weekend saying that was a great teaching and a great teacher."
"I was reminded of the 'sweetness' and ridiculously, wonderful grace of Jesus through our time together.  I was challenged to treat others who are different from me with the same gentle grace and acceptance that Jesus has treated me."
"This study helped me remember and learn anew some of the surprising, radical parts of Jesus that made me fall in love with Him in the first place. Thanks!"