About the Book
2nd Edition Now Available!
The Gentle Savior
Seeing Jesus Through the Eyes of the Women Who Met Him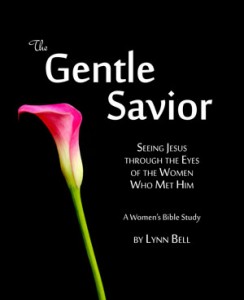 "Come, see a man who told me everything I ever did!"
This 10-week Bible study joins a thirsty-hearted Samaritan woman in inviting you to meet a man who looks into a woman's heart and knows exactly what she needs. Who values women regardless of their marital status, professional skills, sexual history, or financial position. Who notices both the heroic faith of women in desperate circumstances and the quiet suffering of sisters racked by grief and chronic illness. Who invites women to work alongside Him and use their intellectual capacity to know him more fully. Who inspires women to give extravagantly and to stay by his side when all the world abandons him.
The women of the Gospels discovered in every encounter with Jesus that he was no ordinary first-century rabbi, but a gentle Savior who reflected on them the face of his compassionate Father.
View Table of Contents and Sample Chapters
The relationships of Jesus with women are explored in this intellectually challenging and heart-engaging Bible study guide. The serious Bible student will delve deeply into each of Jesus' interactions with women and discover what those Gospel narratives ultimately say about God.
The book reveals that Jesus routinely ignored patriarchal assumptions and cultural taboos held by many men in the first-century Middle East. He noticed women, engaged them in conversation, defended them against condemnation and criticism, healed their afflictions, welcomed them into his ministry, and inspired their bold commitment to his cause. He treated every woman he encountered with dignity and respect whether she was a devoted disciple, a frightened adulteress, a grieving widow, or a determined mother.
The Gentle Savior invites women to learn how much God values his cherished daughters regardless of their life circumstances. It also challenges us to treat the females in our daily lives just as Jesus would.
Application topics range from motherhood, ministry roles, and grace to disappointment with God, guilt, chronic illness, widowhood, poverty, human trafficking, sexual abuse, and racism. As an added bonus, the study includes background information on how the Gospels were written, how to understand their unique characteristics, and how to study them with integrity.
What Others Are Saying About The Gentle Savior:
"The Gentle Savior is an informative and engaging study specifically geared for women in need of a biblical understanding of God's grace.  Lynn Bell provides an overview of women in the Bible who were influenced by Christ and served in His earthly ministry.   Women will be offered hope in Christ as they discover more fully the Savior who came to heal their broken hearts."
Dr. Monica Rose Brennan, Associate Professor & Director, School of Religion & Center for Women's Ministries, Liberty University
"In an approachable, captivating style, the author of The Gentle Savior delves into the hearts of  Bible women, examining their stories in their particular time and historical context, while finding many ways in which their stories and ours intersect. This work is biblically instructional, yet also emotionally engaging."
Dr. Natalie R. W. Eastman, author of Women, Leadership, and the Bible: How Do I Know What to Believe? A Practical Guide to Biblical Interpretation and founder of Biblical Breakthrough! Online Coaching Program
"The Gentle Savior is a unique Bible study for women that engages both the mind and the heart. The study's focus on Jesus's countercultural regard for women helped me to better grasp His love for me. It also encouraged me to view other women through the lens of love and reach out to them with compassion and sensitivity."
Sonia Cabell, Ph.D., University of Virginia
"The Gentle Savior Bible study has helped me feel more confident in who I am, knowing that Jesus truly loves us where we are and for who we are. I have used what I have learned in this study to help other women who are struggling with their own hurts, habits, and hang-ups."
Christi Martin, Teacher, Charlottesville City Public Schools, Virginia
"I have had the privilege of knowing Lynn Bell for over 20 years now! This book is not only a reflection of her relationship with our Lord and God, but a safe and masterfully crafted method to lead both the experienced and the searching reader to a deeper knowledge of who and how God views his children. The devotions will inspire the reader to dive into the scriptures and yet they allow the Spirit of God alone to be the guide and teacher. This book will leave the reader with a presence of God that is often not understood by the interpretations of man or church!"
Tammy Mathews, Salem, Oregon
"I studied through the Gentle Savior Bible Study twice during its development. The insights I gleaned about the way Jesus interacted with women in the Bible have continued to stay with me as I study scripture. I feel that I am better able to address in discussions the compassion and love Jesus showed toward women. The understanding I gained from The Gentle Savior Bible Study compels me to be more compassionate and loving in my interactions with others."
Erin Mullins, Memphis, Tennessee