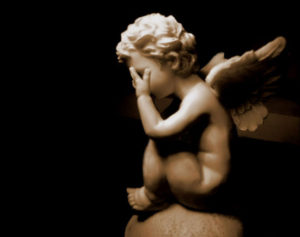 No question about it, 2017 has been the best year of my life.
I have so much to be thankful for, including getting married to a dear man who is my partner in every way, moving back to scenic West Virginia into a vintage craftsman-style house-of-my-dreams located in a quaint historic village, and working at what I love from my home office. Of course, I have my beautiful daughters and extended family, including all the new family I married into.
In reflecting on my many blessings, of course God's faithfulness comes to mind and this one thing especially:
No more guilt.
So now there is no condemnation for those who belong to Christ Jesus… (Romans 8:1)
We are so often plagued by guilty feelings. Even though the Bible and the pastor keep telling us we are forgiven, it seems like guilt should be the natural response to our inability to shake free of sin. It's like we think guilt is a fruit of the Spirit, but it's not. Here are some statements I made about guilt in my book The Gentle Savior:
Feeling guilty when you have been declared innocent by God is a huge drain on your emotional and spiritual energy. Unfortunately, a lot of people in our lives think they benefit from our guilty feelings. Humans use guilt to manipulate and control behavior… God does NOT do it. God's kind of guilt has a positive, constructive purpose. …
Remember that God's purpose for guilt is to help keep you close to him. And he gave you Jesus to take away your guilt. He never intended for guilt to be a way of life for his people. Jesus died to set you free. Paul said it clearly, "It is for freedom that Christ has set us free!" (Galatians 5:1). If you feel burdened by nagging guilt feelings you can't let go of, please believe that those feelings are not from God. Guilt is not a characteristic of godliness.
You can find more about dealing with guilt in the second chapter of my book. Recently, however, I ran across some good material that extends my discussion on godly sorrow vs. guilt. I have been reading How People Grow by Henry Cloud and John Townsend (the authors of the well-known Boundaries), which I highly recommend. Here's some of what they have to say:
"When we are wrong, we should feel distressed, but we should not feel bad and condemned. We should feel sorrowful remorse and concern for the party we offended." This kind of godly sorrow that is concerned for the other, they say, is what leads to change.
"Worldly sorry can keep us from feeling forgiven. Guilt is not the proper response to the conviction of the Holy Spirit. The proper response is godly sorrow because it is based in love." Worldly sorrow focuses on our own badness, they add. Guilt is very me-centered. "If I am feeling guilty, I am concerned about feeling good again, not about the destructiveness of the problem or the way I may have hurt someone [or God]."
"So you have not received a spirit that makes you fearful slaves." (Romans 8:15)
Here's a sound bite I love: "Forget the guilt and solve the problem."
Guilt is lousy at changing us. We wallow in our badness or ignore it, and either way end up doing more destructive things in an effort to mask the pain or feel better. Love calls us to change because we have empathy for the person we hurt. "Love constrains us," the authors say. "Get off the guilt and onto how your behavior affects other people. This is love."
That makes so much sense to me. "Love never fails." And I am grateful for the power of love in every aspect of our lives.
"If God is for us, who can ever be against us?" (Romans 8:31)