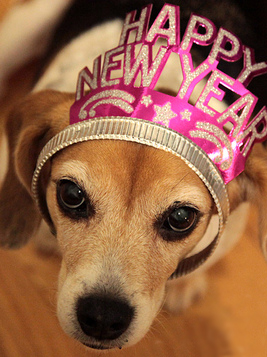 Hello, 2015!
I am so ready for a new start.
Good riddance, 2014! You brought more pain in your 52 weeks than any I have experienced in 52 years.
Don't get me wrong. The past 12 months weren't all bad. I received tons of love and support from caring family, friends, and co-workers. I tried some new things, broadened some perspectives, had some great experiences with my daughters, and enjoyed an amazing weekend retreat in Colorado that was purely a gift from God.
The year began, though, with several months of intensive marriage counseling that went nowhere except to make me feel like an utter failure. Then there was the finality of the divorce decision and then months of haggling over a settlement agreement that still isn't final. I am so ready to put that all behind me.
Then there's my counselor who relentlessly makes me address emotional stuff that I would prefer to ignore and keeps dogging me about learning to deal with conflict. That, my friends, is so hard for me. I want to be optimistic and happy and positive, and for all my life I've achieved that through departmentalizing the stuff that hurts or scares me. I am really good at that, and I hate this process, but I am enduring it because I KNOW it will make me healthier in the long run.
Just last night it finally dawned on me that today, January 1, 2015, can be a turning point. A new year allows me to pack away the old one, without forgetting its lessons. I am a stronger, healthier person now with renewed capacity to feel my whole range of emotions (even though I have more growing to do).
I am declaring 2015 my Year of Freedom.
In a few months, some legal papers will bring one kind of freedom. But I am also going to practice freedom of the heart. I believe that dealing with my emotional pain instead of stuffing it will free me to develop better relationships, friendships that are less one sided and more mutually beneficial. I think I will be a more nurturing and caring person.
I think I will also be free of much of the sadness that has paralyzed me for months (maybe years) at a time. I want to be motivated and energetic and productive in my personal and spiritual life.
I am looking for a way to be free of my fear of rejection for my religious beliefs – rejection by other Christians, that is. I realize I may be in a prison of my own making, constructed from perceptions drawn from my childhood church experiences, but I have a hard time shaking it.
I want to spend some time where orthodoxy to a certain set of interpretations is not required, a place where faith, love, and intellectual honesty in search of God are enough. I have questions and doubts and evolving understandings that I need to sort out, and I want to be free to say that out loud without shocking or disappointing anyone.
I want to work on my relationship with God this year, too. For a while now, I have held on to my faith by sheer force of will. I have read about God and acted on what I believe God wants from me and shared with people some things I believe to be true about God. Deep down, though, I've been a little miffed and confused and, therefore, spiritually distant. I'm asking God to show me what a close spiritual relationship looks like in the midst of my questioning.
One thing I don't question is that God is good, because he keeps putting such loving people in my life. As I was thinking through this post earlier today, the dear lady who lives with me came through the house calling my name.
Her timing couldn't have been more perfect. She wanted to bestow on me a New Year's blessing. There's a reason her name is Mercy, and if you know her, you know that her encouraging words came with a warm hug.
My friends, I wish to pass on a New Year's blessing to you, as well. Grace, peace, and freedom to you all!
photo credit: cutiepie company via photopin cc