Happy New Year, Dear Readers! 
I hope you each had a very merry Christmas and enjoyed blessed time with family and friends. 
I took a little break from the blog during most of December to prepare for the holidays and devote my time to my family while they were all gathered near. My husband was home from Oregon for 10 days, and it was wonderful to have him with me again. I miss him so much when he's on the opposite side of the country.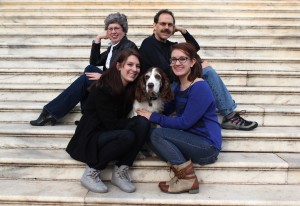 Our daughter Adrianne is home from college for winter break, and Jessi spent over a week at home with us. Check out our family photo we took on Christmas Day. 
We also enjoyed hosting Randy's two brothers, their wives, and one of our nephews for a weekend. Then we visited my folks in West Virginia, along with my brother, sister-in-law, and niece. And last but not least, we visited with Randy's older half-brother and family one evening. 
Lots of great family time! On this New Year's Day, though, the house is pretty quiet again. I took Randy to the airport this morning. Jessi is back inFredericksburg. I'll be spending the better part of today packing up Christmas decorations securely enough for the 3,000-mile trip they'll make in the spring. 
And I'm writing! Here at the beginning of a new year, I am preparing a special series on relationships among Christian women, simply called "Sisters in Christ." 
The posts you'll be reading over the next couple of months will be drawn from my talks at the Maple Grove Christian Church Women's Conference last October, where our theme was "The Sister Connection: So Much More than Friends." 
A couple of things inspired my thoughts on this topic.
1. My studies about Jesus and the way he interacted with women. As I read about the attention, respect, and compassion Jesus showed to women, I am always convicted that I should do a much better job of following his example.
2. Some casual conversations with women at last summer's She Speaks conference. It was a really great experience being with so many women who want to write and speak for God. I was a little surprised, though, at the responses I typically received in answer to the question, "Are you involved with the women's ministry at your church?" I was asked only because I feel called to be more involved in teaching and encouraging my sisters, and I was curious about how other women are doing that. Most of the women I spoke with, however, said no, they did not participate significantly in their church's women's ministry.
Please don't make any broad generalizations about this, because my sample was neither random nor large enough for that. And, certainly, don't think I'm saying that involvement in women's ministry is an indicator of anyone's devotion to God or lack thereof. It just got me thinking about how Christian women relate to each other in local church settings and whether we might need do that better.
Check back next week for the first post in the series "Sisters in Christ." Subscribe here so you don't miss a thing.
I wish you a very enjoyable New Year's Day!