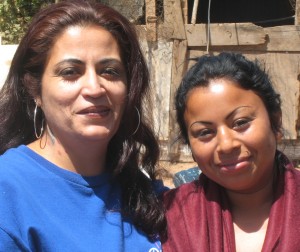 Over the past six weeks, I have been sharing with you a series called Jesus on Women. Considering the things Jesus said about women in his ministry has expanded the understandings of God we had already gained by looking at what Jesus said to women. This final post in the series sums up all we discovered.
As Jesus traveled the region of Palestine and taught about the coming kingdom and his Father's will, he made sure that women knew he wasn't running a boys-only club. He featured women in his illustrations and made reference to their familiar experiences, clearly communicating that he both invited and welcomed women's presence among his public audiences as well as his more intimate circle of disciples.
Jesus specifically took up the plight of widows in his teachings, acknowledging their vulnerable predicament and commending their persistence and sacrifice. He also revealed a countercultural stance regarding women who were sex workers.  He clearly considered them to be valuable human beings who were welcomed into the kingdom upon repentance. Jesus never commented on a woman's beauty or appearance in any form, but he commended a tearful prostitute for her love and faith.
On that post-Passover Sunday when a group of astonished women returned with reports of an empty tomb, the apostles refused to believe them, "because their words seemed to them like nonsense." You will find no such response of Jesus to women. As a matter of fact, he sent women on that reporting mission. Neither will you find him mentioning any stereotypical characteristics of women that might make their witness less reliable than a man's.
Jesus upended a common belief among Jewish men that sexual immorality was the woman's fault. He said that looking at a woman with "intent to lust" was the root of adultery—laying the fault in the man's heart rather than the woman's appearance. He also told the Pharisees that divorcing a spouse to marry another is tantamount to adultery, and he nixed any notion that divorcing a wife "for any reason" was righteous behavior.
No Jewish male of authority or wealth fared well when mentioned by Jesus in the same sentence as a woman—most usually a vulnerable woman. Not even the men who put the most effort into righteousness could measure up to the qualities Jesus saw in these women. He put widows up against them on several occasions, as well as a crippled daughter of Abraham—even prostitutes.
 Jesus upheld the importance of family, except that he redefined family—mothers, brothers, sisters—to be those who do God's will. He also warned that discipleship would sometimes require that both men and women leave their blood ties behind and noted that women's relationships with the women in their physical families will be just as much at risk as will men's.
Jesus mentioned the typical activities in which women engaged: making bread, grinding grain, looking for a lost coin, enduring the pain of childbirth, nursing a baby. Yet, when he spoke of a woman's "place," it was at his feet in the posture of a disciple, or it was directly behind him with a cross hefted on her back.
In his teachings he made no mention of women looking for a husband, staying at home, or keeping quiet. His priority was clearly on the spiritual kingdom and the sacrifices men and women both must make in his service.
 The gospel narratives of Jesus interacting with women paint a beautiful mosaic of compassion and sensitivity for women in vulnerable situations, as well as respect for women's intellectual capabilities and appreciation for their unique contributions to his ministry.  As we add the evidence of Jesus' references to women in his teachings, the colors of this masterpiece grow only sharper and more vivid. We are left with high expectations both for our commitment to God and for our behavior toward other women as we take up our cross daily and follow the example Jesus lovingly set.