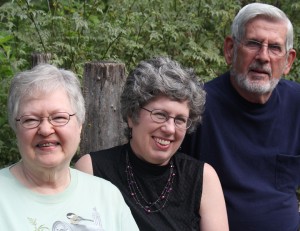 Last week I went on a vacation trip to Tennessee with my parents, Allen and Pat, and their closest friends, Ron and Lil. It's been a few years since I traveled with my family, and I enjoyed the honor of tagging along with their foursome. We had a lot of fun together. Truly, you cannot beat the unscripted hilarity of minivan conversations between people of a certain age who have all experienced hearing loss to some degree. 
Aside from the giggles, however, this trip gave me time to reflect once again on the many ways my family has blessed me. I'll mention just a few…. 
I got to grow up in a home with both of my parents always there. My mom and dad have been married for 51 years and counting. I think it's pretty impressive that, even now, whenever their church offers opportunities for marriage enrichment weekends, my parents sign right up and set a great example for all the other married couples in their congregation. 
All my life, and especially during the impressionable years of my childhood, I have never had a moment of doubt that I was loved and valued. My family always made sure I knew that I was precious to them—but at the same time they allowed me to be who I wanted to be. As I grew into adolescence, I was trusted and free to make independent decisions, which I feel sure helped me to become a more confident woman. 
Of course, I grew up in a Christian home where my parents lived what they believed and nurtured my spiritual growth. They supported my participation in every week of summer church camp and every Christian conferences and evangelistic campaign I ever wished to attend. Later on, they found a way to send me to private Christian college when that was the choice I made. 
I'm sure I don't even know all the sacrifices my parents made for me growing up in West Virginia. There were years when I was very young that my dad taught school until 3 p.m. each weekday then headed downtown to work another four hours at Sears. Later on, as the college years loomed ever closer, my mom got up at the crack of dawn each morning and worked as a cook in our high school kitchen—back when schools served lunches prepared from scratch. I'm sure there were countless times when Mom and Dad did without life's little comforts and conveniences for my benefit. 
Maybe the most impressive thing is that, even now in their retirement years, they are growing and stretching in their practice of faith. They continue to search the scriptures and remain eager to learn. They have always been great examples as diligent servants in the church, and my 79-year-old dad has been an elder for decades. Yet, when they are challenged to follow the example of Jesus in ways they never have before, they step up in obedience. 
I could go on much longer, but you get the idea that my folks laid an invaluable foundation in my life for my own faith and ministry in the Kingdom. I can only thank God for such a blessing and hope I did half as well for my own daughters.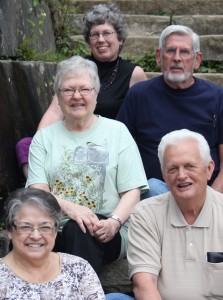 (PS: Thanks, too, to Ron & Lil, my second set of parents who sang in a gospel quartet with my folks and serenaded me through my adolescence!)