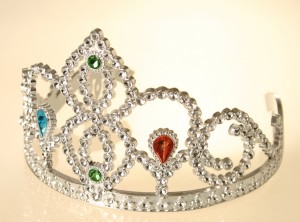 Not every female grows up with a princess fantasy, but I certainly did. Mine was mostly about prancing around wearing jewel-bedecked dresses with full skirts and long trains. Now that I'm an adult, I realize how incredibly uncomfortable those things would be, but when I was 7, 8, 9 years old, I could not imagine anything better. Of course, the closest I ever got to looking like a princess back in those days was my mother's old prom dress. This was before Disney figured out that parents and grandparents want little girls to believe they are princesses and will buy lavish costumes at almost any price.
In studying about Jesus in the Gospels, I noticed that he never referred to women as princesses. Have you ever thought about why?
One possible reason is that princesshood through much of history wasn't really much to aspire to. Princesses lived mostly under others' control—their parents, that is, and the husbands to whom they were married off for the sake of political alliances.
Do you know why the name Mary (or Miriam in Hebrew) was so popular in the first century? Some historians think it was because of a Jewish princess (also known as Miramne). She was wed to the non-Jewish puppet of Rome, Herod the Great. He was insanely jealous and suspected her of unfaithfulness, so he had her executed. Not very romantic.
There may have been another reason. Maybe Jesus just didn't see princess as the right metaphor for the kind of women he was calling into service.
Today, when we talk about our little girls being princesses, or even adult women being treated like princesses, what do we have mind? Someone who inherently deserves special treatment? Someone who is physically beautiful? Someone who is controlled by her unfortunate circumstances and must be rescued by a man? Someone who is pampered and served by others and who gets whatever she wants?
I'm not sure exactly what we're thinking, but none of those things sound like what Jesus calls his followers to be.
In a recent issue of Mutuality magazine, Laura Robinson points out that, yes, our Father is a king, so yes, we are royal, but royal like this:
"But you are a chosen people, a royal priesthood, a holy nation, God's special possession, that you may declare the praises of him who called you out of darkness into his wonderful light." (I Peter 2:9)
"God has given us a new identity, and the hard work that comes with it is incompatible," she says, with the self-absorbed concepts of fairy tales, crowns, and princesshood. "A daughter of God…is a beloved, hard-working and self-sacrificing servant of her Father," she continues. "She imitates Christ by loving and serving others without self-entitlement."
When my daughters were little, they liked princesses, too, and they watched their share of Disney movies. Our favorite book about a princess, however, was The True Princess by Angela Elwell Hunt. In her version, the true princess was not the girl with the long golden hair or the royal robes or the flare for giving orders. The true princess was the humble girl in a patched dress who knew how to love sacrificially.
Princesshood may have seemed extremely appealing to us as egocentric children, but as we grew up we should have recognized that fantasy for what it is. And if we want our daughters to grow up to be "royal priests," I'm thinking we should probably be careful about how much we encourage the self-indulgent princess thing during those important formative years. It is by no means child abuse to prepare our children for God's version of greatness.
"…Whoever wants to become great among you must be your servant, and whoever wants to be first must be your slave—just as the Son of Man did not come to be served, but to serve, and to give his life as a ransom for many."  (Matthew 20:26-28)